Happy New Year!
Happy New Year Everyone! 2020 has been a very hard year for so very many and our hearts and prayers go out to all those who have lost loved ones and to those whose lives have been shut down because of the Covid situation.
We have been blessed with work in a year that we all thought would be flat at best. The AR Guy, on the other hand is very grateful to all of you who are supporting us with your orders. If you have been looking for parts, you know as well as we do that "out of stock" is the new normal. Our backlog has gone from 2 months to 4 months, partially from the increase in orders and the parts wait, but also due to outside work that just continues to increase and takes time away from the shop.
For 2021, we are still trying to help speed things up at the AR Guy with new tools and equipment. I also have a goal to get a good Build Sheet / Order Form system together for you to help keep track of things.
Prices and availability are crazy right now so all orders are based accordingly… call with any questions and updated pricing on all of our products.
Stay Safe and lets hope the new year puts covid to rest! Tim
357 Magnum AR!
The true 357 Magnum AR is here. We have been doing 35 caliber ARs for a number of years from our 35ARem to the rimless versions of the 357 Magnum, Maximum, and now the 350 Legend.
But there was not an upper available for the workhorse standard: the 357 Magnum! until now…..
Available with a dedicated AR style magazine for your straight wall pistol cartridge hunting or revolver companion. Check us out today.
New Shop
Hey All,
As some of you know, my work has me all over and for the last couple of years, based away from the shop. Getting back to work on Heavy Metal stuff wasn't as frequent as we needed. I finally moved part of the shop closer to the work base and now (even tho I still travel most of the time) I can spend much more time at the new shop. We are still getting machines set up and leveled out, but we are making progress and parts.
Next thing we need to add is a customer order / build sheet that you can fill out and send in. That way it won't take 10 emails to get things started and we will have an order number and queue system to work off of. I would like to have it updated in real time for tracking, but we'll see how it goes.
The old shop phone number: 231-233-0839
Don't call it, I'm not there. We are working on a new number for the new shop.
Thanks for hanging in there with us.
357's Come to the AR!
We literally pulled the trigger on our new 357 AR's. The 357 AMag (357 Magnum Rimless) and the 357 Amax (357 Maximum Rimless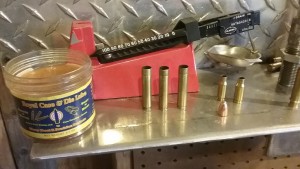 Cases are formed from a multi step process from 5.56 brass for both the 357 AMax and 357 AMag.
We did a pistol for the AMag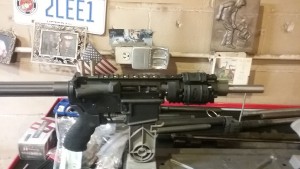 with a 10″ barrel and pistol port gas system.
For the AMax, we went with a carbine barrel and gas system.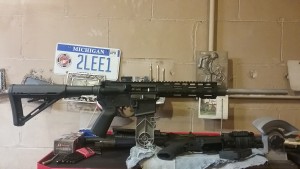 We are working on load data so stay tuned!
1/2/18: New for 2018 is BRASS! Starline got us some "blank" 556 virgin brass that has not been necked down. Now all we have to do is trim, prep, and load! Thank you Starline!!!!!!